In Memory
Louise Lange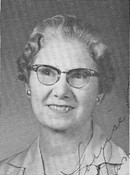 Louise Lange
Miss Louise Augusta Lange, 88, of 2025 E. Lincoln St., Bloomington, died at 8:40 p.m. Tuesday, July 29, 1997 at BroMenn Regional Medical Center, Normal.
Her funeral will be at 10 a.m. Friday at Metzler-Froelich Memorial Home, Bloomington, with the Rev. David W. Gaffron officiating. Burial will be in Evergreen Memorial Cemetery, Bloomington. Visitation will be one hour before the funeral Friday at the funeral home.
Memorials may be made to the Westminster Village Foundation.
She is survived by many special friends.
Her parents preceded her in death.
She was born Sept. 11, 1908, in Normal, the daughter of Charles E. and Alviena J. Siebert Lange.
Miss Lange was a member of Wesley United Methodist Church. She was a former school teacher in the social science department at Bloomington High School for 40 years.
She was an accomplished organist for over 53 years, serving Salem Methodist Church, First Methodist Church, Wesley United Methodist Church, Centennial Christian Church, and Metzler's Funeral Home. She was a member of Delta Omicron professional music fraternity, a member and board member of the Amateur Musical Club and member of the American Association of Retired Persons and the National Retired Teachers Association.
She was a former member of the Brokaw Hospital Service League and McLean County Historical Society.